Farm Equipment For Sale: John Deere 4400 Combine with heads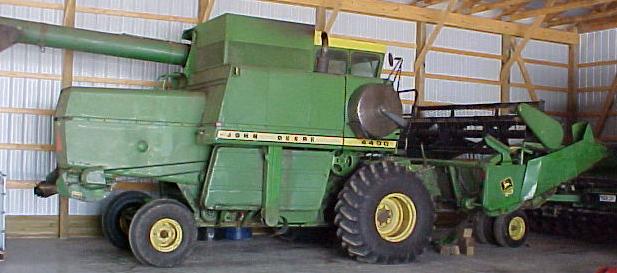 1979 John Deere 4400 Combine with heads
2992 hours, John Deere 4400 diesel, 1979 model, much work has been done including: new concave, cylinder bars, tires, feeder house chain,
chopper knives, 7720 unloader auger arm set-up (all about 700 hrs ago), new clutch, input shaft bearings and input shaft in transmission, shoe auger
bearings, fan bearing, variable speed pulley bearing, in-cab control for cylinder speed adjusting, electric fuel pump (all about 18 months
ago), new oil drain hose on engine, bearing in chopper, air conditioning compressor and dryer (134a), grain tank loading auger, new clean grain
elevator chain (all about 12 months ago). Combine comes with a 213 black reel flex grain head, poly on bottom, bolt on section sickle with new
never used extra complete sickle bar, new drive belt and sickle bar guides. Combine also comes with 443 corn head in very good condition, one
season on new deck plates, snapping rolls and chains are good. Tires sizes are 11.00x16 and 23.1x26 with all tires having about 75% o!
r better tread. Combine is field ready to the best of our knowledge and has been through local JD dealer shop. We are selling due to going
to a bigger (6620) machine. Well above average outfit. Please contact with any questions.

price: $6,500SOLD!!!
Located in: Daleville, IN
phone: 765-623-0479