---
Looking for a Grain Bin?
---
You might also be interested in bins for corn storage...


1.6 ton (50+ Bushel) Capacity Bin
Shur-Kleen Corn Cleaner for your Corn Stove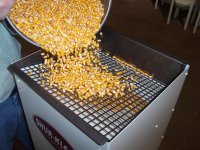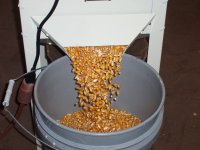 ---
Why you need the Shur-Kleen Corn Cleaner:
Why do you need a Shur-Kleen corn cleaner?

Corn burns better when it is clean going in!

Corn stove manufacturers recommend using clean corn in your corn stove. Clean corn creates a more efficient burn and produces less ash. Cobs, stalks, silks, "bees wings," and other fines can clog, jam and damage moving parts and feeder assemblies of your corn stove. Dirty corn can also cause a lesser quality burning of the corn. A corn cleaner will pay for itself over and over again by increasing the amount of BTU's you can get from your clean corn.
About the Shur-Kleen Corn Cleaner:
The Shur-Kleen corn cleaner is the best corn cleaner on the market of its kind that efficiently and quickly cleans your corn for use with your corn stove.
The Shur-Kleen cleaner was precisely designed for the corn stove owner. However it has now extended to the small flour shops and other nitch markets.
The screens on the cleaner may be exchanged with different size in a matter of minutes. Also the screens are laser cut out of 18 ga. steel sheeting.
Your product will not plug up the screen like it does the wire screens.
These screens have a lifetime warranty.

The top screen will seperate your larger pieces from your corn. It is easy to remove if you do not need it.

It has 1/2" square hole and is angled to allow even flow.

There is a small blower that blows your lighter foreign material through the screens. Otherwise dust and beeswings tend to stay airborne and finally settle out with your corn.

The cleaner is 48" tall and 14" x 14" square. It is easy and affordable to ship any where in the country.
Here is how the Shur-Kleen Corn Cleaner works:
You simply load your product through the top screen, which will filter the larger pieces. The product flows down through the cleaner. In the process in flows over two seperate screens on the inside, fines drop through the screen and drop out on the bottom.
Corn flows out on the side just after a powerful little blower blew the dust and beeswings off and through the screen to join the fines.
This unit creates minimal dust and may be used in garage or basement.
If you need a screen other then a corn screen it would be build to order. So shipping time would be an factor.
Also we have different vaccuum attachments for customers who wish to attach vaccuum cleaner for basement operations.
Order the Shur-Kleen Corn Cleaner:
| | |
| --- | --- |
| We are currently out of the corn cleaners and working on getting more. Thank you. | |
| Questions? mail@grainfarmer.com Phone: 573-225-5039 | note: Corn Cleaners now have galvanized finish. |
* Please allow 2 weeks for delivery. Corn Cleaners shipped free via UPS to U.S. only.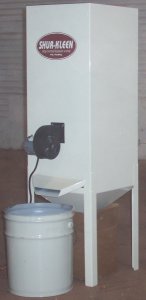 Click Here to view Corn Cleaner Video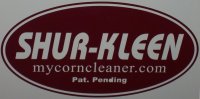 People who have purchased the Shur-Kleen Corn Cleaner
say the following:

"Before the cleaner, I was not able to use my stove at settings higher than medium. With cleaner corn I can use the high settings for more heat without problems."

--Kitch P. from New York

---
"I can't believe the dust and fines coming out of my corn, even when the corn appear clean this cleaner manages to get dust from somewhere."

--Mike W. from Michigan

---



"My corn IS as clean as IT could be after this unit is through with it."


--Jeff A. from Iowa

---



"I am simply amazed how well this cleans and how easy it is to use."
--Rich M. from Illinois

---



"I bought this cleaner to take out dust and fines from corn and does it ever."

--Bill G. from Kansas

---



"I bought one for myself to see how it works and being a corn stove dealer I can finally sell a cleaner to my customers that I know works."


--Delvin H. from South Dakota

---




You might also be interested in bins for corn storage...


1.6 ton (50+ Bushel) Capacity Bin

2.1 ton (70+ Bushel) Capacity Bin