GrainFarmer.com
---
---

Farm Equipment For Sale: John Deere 4020 Diesel Tractor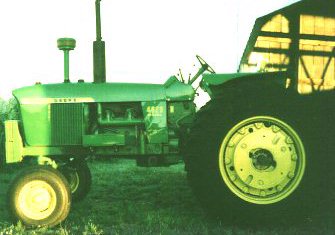 1967 John Deere 4020 Diesel Tractor
This restored and professonally painted JD 4020 Diesel features a factory wide front, a Syncro-Range transmission, a 3-point hitch, single remote hydraulics, an air cleaner stack with precleaner, front weights, wheel weights, and new 18.4x34 Firestone Tires.

$11, 000
Rosedale, IN evenings.
SOLD!!!
Farm Equipment Financing

Farm Loans

Equipment Financing
Tractor Tires | Hopper Bottom Grain Bins | Tractor MailBoxes | Planter Seed Box Extensions | DR Field and Brush Mowers | Corn Cleaners | Feed Bins | Auger Dolly | Tractor Seat Stools
---

© 1998-2000 GrainFarmer.com All Rights Reserved.